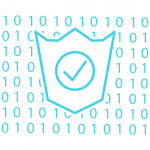 Cyber threats have the potential to impact all facets of the supply chain.
An attack against the Colonial Pipeline in the U.S. in May 2020 illustrated how vulnerable critical infrastructure can be as an attractive target for cybercriminals and even other nations hostile to the American economy. The attack – made possible through a single password breach, as disclosed later – shut key conduits delivering fuel from Gulf Coast refineries to major East Coast markets.
According to industry sources, shipping and logistics companies saw three times as many ransomware attacks in 2020 as in 2019. A spike in malware, ransomware, and phishing emails during the pandemic helped drive a 400% increase in attempted cyberattacks against shipping companies through the first months of 2020, as well.
While shipping represents a major element of overall supply chain operations, the looming threat of cyber attacks remains just as present and prevalent in every other link of that chain.
As the world economy continues to regain its footing in the wake of the coronavirus pandemic, supply chain issues have contributed to inflationary pressures and the less-than-rapid recovery many had hoped to see. Preventing malicious actors from further disrupting the supply chain remains a key priority.
Cybersecurity impacts every business, regardless of size or location or industry. Make sure your business deploys all preventative measures possible, and have regular reviews of your cybersecurity insurance coverage to protect against potential losses.
Contact the professionals at Evergreen Insurance for more information.
Copyright 2022 Evergreen Insurance
Evergreen Insurance provides these updates for information only, and does not provide legal advice. To make decisions regarding insurance matters, please consult directly with a licensed insurance professional or firm.